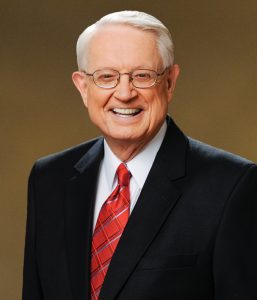 Charles R. Swindoll has devoted his life to the accurate, practical teaching and application of God's Word and His grace. A pastor at heart, Chuck has served as senior pastor to congregations in Texas, Massachusetts, and California. Since 1998, he has served as the founder and senior pastor-teacher of Stonebriar Community Church in Frisco, Texas, but Chuck's listening audience extends far beyond a local church body. As a leading programme in Christian broadcasting since 1979, Insight for Living airs in major Christian radio markets around the world, reaching people groups in languages they can understand. Chuck's extensive writing ministry has also served the body of Christ worldwide and his leadership as president and now chancellor of Dallas Theological Seminary has helped prepare and equip a new generation for ministry. Chuck and Cynthia, his partner in life and ministry, have four grown children, ten grandchildren, and seven great-grandchildren.
Call to Ministry
While on the island of Okinawa during his tour of duty in the United States Marine Corps, Chuck recognised that the Lord was calling him to devote his life to the gospel ministry. With Cynthia, his partner in life for more than fifty-one years, Chuck has devoted himself to the challenge of communicating practical, biblical truth and its application in the context of God's grace.
Education
After being honourably discharged from the Marine Corps, Chuck enrolled in Dallas Theological Seminary [DTS]. Chuck's course of study at DTS and the lifelong mentors he met there have permanently marked his life and the course of his ministry.
Chuck graduated magna cum laude from Dallas Theological Seminary in 1963 with three major honours:
Harry A. Ironside Award for Expository Preaching
Christian Education Award for the greatest achievement in the field of his academic major
Faculty Award for the most outstanding graduate in the opinion of the faculty
Chuck has also received four honorary doctorate degrees in recognition of his outstanding contributions to ministry:
Doctor of Divinity, Talbot Theological Seminary, 1977
Doctor of Humane Letters, Taylor University, 1986
Doctor of Laws, Pepperdine University, 1990
Doctor of Literature, Dallas Baptist University, 1997
Pastoral Ministry
For more than forty years, Chuck's pulpit ministry has emphasised the grace of God alongside an uncompromising commitment to practical, biblical truth and its application. He has served the following congregations in his pastoral ministry:
Grace Bible Church, Dallas, Texas, Assistant Pastor, 1963–1965
Waltham Evangelical Free Church, Waltham, Massachusetts, 1965–1967
Irving Bible Church, Irving, Texas, 1967–1971
First Evangelical Free Church, Fullerton, California, 1971–1994
Stonebriar Community Church, Frisco, Texas. In October of 1998, Chuck founded Stonebriar Community Church, where he continues to serve as senior pastor.
As a pastor, Chuck has received the following awards:
Clergyman of the Year, Religious Heritage of America, 1988
Named one of the top twelve preachers in the nation by the Effective Preachers Program of Baylor University and George W. Truett Theological Seminary, 1997
Ranked second to Reverend Billy Graham in a 2009 survey which asked 800 Protestant pastors to name the living Christian preachers who most influenced them (survey conducted by LifeWay Research).
Insight for Living Ministries
Chuck's congregation extends far beyond the local church body. Through the Insight for Living broadcast, Chuck's teaching is on the air through more than 2,100 outlets worldwide in several foreign languages, and is also available to an expanding Webcast and podcast audience. While Chuck serves as chairman of the board of Insight for Living USA, his wife, Cynthia, serves as president and chief executive officer of Insight for Living USA. They have directed its expansion to become one of the leading radio programmes in Christian broadcasting. Their leadership has made Chuck's messages accessible to the majority of the world's population. Headquartered in Frisco, Texas, Insight for Living Ministries now has a staff of over 90 employees. We also maintain offices in Australia, Brazil, Canada, Guatemala, The Middle East, Poland, Romania, Russia, and the United Kingdom.
As teacher on Insight for Living, Chuck has received the following awards:
Programme of the Year, National Religious Broadcasters, 1994
Religious Broadcaster of the Year, National Religious Broadcasters, 1999
Hall of Fame Award, National Religious Broadcasters, 2000
Authorship
Chuck's prolific writing ministry has blessed the body of Christ for over thirty years. Beginning with You and Your Child in 1977, Chuck has contributed more than 70 titles to a worldwide reading audience. His most popular books in the Christian Bookseller's Association include:
Strengthening Your Grip
Improving Your Serve
Dropping Your Guard
Living on the Ragged Edge
Living Above the Level of Mediocrity
The Grace Awakening
Simple Faith
Laugh Again
The Finishing Touch
Intimacy with the Almighty
Suddenly One Morning
The Mystery of God's Will
Wisdom for the Way
The Darkness and the Dawn
A Life Well Lived
Great Lives from God's Word series, which includes Joseph, David, Esther, Moses, Elijah, Paul, Job, and Jesus: The Greatest Life of All.
As a writer, Chuck has received the following awards:
Gold Medallion Lifetime Achievement Award, Evangelical Press Association, 1997
Twelve Gold Medallion Awards
Christian Book Award for Bible of the Year, 2018
Dallas Theological Seminary
After serving as Dallas Theological Seminary's fourth president for seven years (1994–2001), Chuck became the seminary's chancellor in 2001. As the sixth-largest seminary in the world, DTS's primary goal is to equip godly servant-leaders for the proclamation of God's Word and the building up of the body of Christ worldwide, a mission Chuck wholeheartedly supports in his life and teaching. He continues to uphold the school's motto, "Preach the Word," as he serves in leadership at Dallas Theological Seminary, at Insight for Living Ministries, and at Stonebriar Community Church.